My baby boy turned one this week!!! Where has the time gone?? This has been the most amazing year. I never knew that I could smile as big as I do when I watch my 2 children interacting. Life has definitely come full circle, and my life is the most wonderful that I ever knew that it could be.
Everyone that reads this blog knows that Emma is amazing, but I do not write about Owen as much. So, here is a little Owen fun for all. Owen loves music and water. He is mischievous and ornery. He LOVES food, and will probably be eating us out of house and home soon. He loves to play chase with his sister, and loves it when his sister reads to him. He is little Mr. independent, and he gets so upset when his sister is playing with her friends on our fort in the backyard...and it is out of distance for him to crawl to (he seriously wants to be RIGHT in the middle of everything). Owen loves his Mama...and when we come home from daycare no one else will do (not even daddy:)...which makes his Mama smile even bigger. His daycare loves him, and he loves everyone there. Owen loves to ride in the car...and he plays "games" with Emma as we drive along.
Overall, the past year has been one of excitement and wonder. Not a day goes by that I do not realize how much more relaxing and carefree this parenting is verses the first year with Emma. If he had been our first child...we may have had 4 or 5 more (HA)....however, we will be stopping at 2:).
Life is good! Life is really really good! My 2 kiddos are both amazing!!
Here's my little baby boy a year ago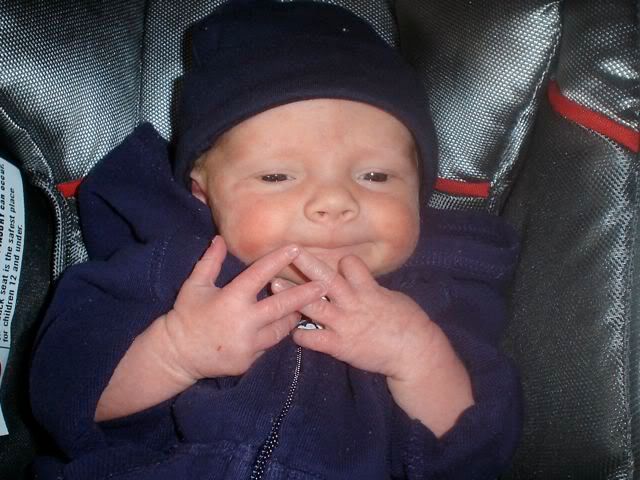 And, here he is today! Wow...what a difference a year makes:)....