GGGOOOOOO!!!!
That's how playday 2009 began at our little school. Teams were forms, colored bandanas given to identify each team, and there was my little peanut in the midst of it all....just drinking up the enthusiasm flowing through all of the children. When she woke up that morning I said to her, "Are you ready for playday today?". She said, "NO, I want recess", and I said, "Well, it's like recess all day"....to which she replied, "YYYIIIPPPPEEEEEEE!!!!!!".
It all started with the obstacle coarse, then they went on to the shoe toss, marble toe pick up, softball throw, relay races, and the ever famous
TUG OF WAR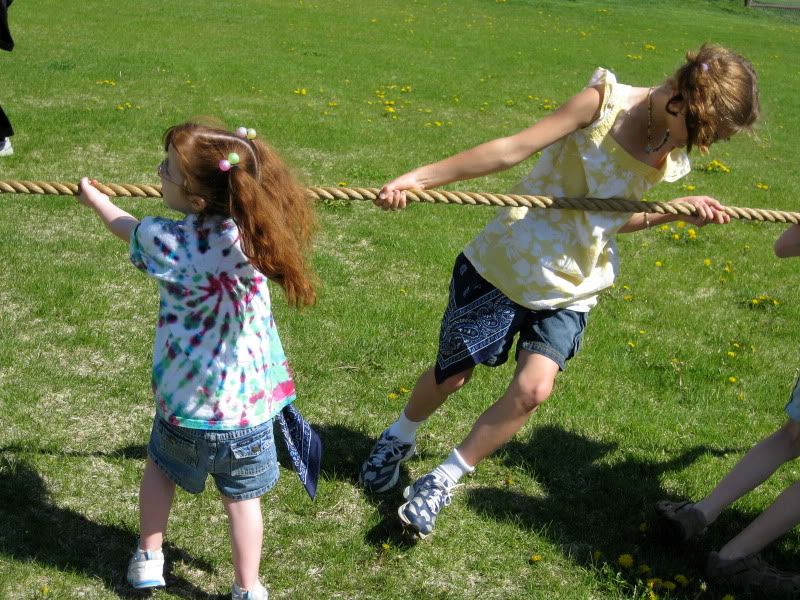 Then, we went on to a SEVERE allergic reaction....that was fun (Ha!). After 2 doses of Benedryl, and a Mama/teacher that was very concerned...this is what Emma looked like
She fell fast asleep right in the middle of the playground and someone placed my jacket over her.
However, when she woke up, thankfully the welts (all.over.her.body) had lessened and she was so very proud of her ribbons. A first and a second place...not bad for a little girls 1st day!!
We are SO very proud of you Emma!!!
Oh, and I just had to share our little prairie girl. A few weeks ago we went to our sister school. Remember that our school only has 34 kids grades Kdg.-5th. Well, our sister school is 70 miles away from us and they have.....are you ready for this??......3 kids in their entire school. Well, every year they have a big event called Valley Days where our school goes up there and they have many different "centers" that the kids can go to throughout the day. It is a blast!! One of the "centers" this time was Old time photos. The kids got to dress in old fashioned clothes and get their picture taken in sepia tone. This picture is the one I took of Emma....it's in color, but it is so cute...and check out the background. Can you believe that this is the "backyard" for this school? It is breathtakingly beautiful....and so is she:) (just my biased opinion). It was a very sunny day (and Emma doesn't do well with sun....hence the squinting:).