Happy 2009! Wow! I can't believe that it is 2009 already. 2008 was a great one....and it went out with a bang!
Let's just say that my husband is pretty sure that I have been dying my hair...because I really should have been blonde. I'm not sure if it's still just pregnancy brain or what, but I'm hoping that my memory comes back soon. I'll give you just one brief example of what I'm talking about.....so, we went shopping the other day. We went to the new Kohl's store. Well, my husband decided to stay in the car with the kids, so I went in to shop and I was trying to hurry. I finished shopping and came out of the store to see him driving away!!! Well, we were in a city 2 hours away from our house...and I had forgotten my cell phone at home (won't be doing that again). I was pretty ticked, but thought that maybe he just thought that I'd be longer and he would run a brief errand. So, I went back in and did more shopping:). I would come out every 15 minutes to see if he was back yet, and I would get more and more angry each time. I had been doing this for about an hour when I walked out, stood there with my enormous bag over my shoulder (retail therapy for the anger I was building for my husband, right?), when an elderly lady came out and asked if I had misplaced my car too. I said, "No, my husband dropped me off and he should be back any minute". She then said, "You know....I don't think I parked my car on this side". WWWHHHAAAATTT? You mean there are 2 entrances to Kohl's?? I quickly walked all the way around the store, out the door, and there was my husband waiting in the exact spot that I left him....he had never left it must have been someone else:). He was very nice about it...just shook his head and repeatedly said, "Are you sure you're not really blonde?".
OK....on to our kids. The reason that 2009 came in with a bang.....2:30 am Emma wakes up throwing up.....and exploding out the other end at the same time. She threw up for 2 hours straight! CRAZY!!! Then, she woke up this morning....feeling absolutely FINE...and with a ton of energy...that her mama does not have right now:). However, I am glad that she's feeling better.
Here is a picture recap of Christmas...sorry it's long:).
Christmas Eve cuties
Handsome young man (sweet potatoes on his face and all:)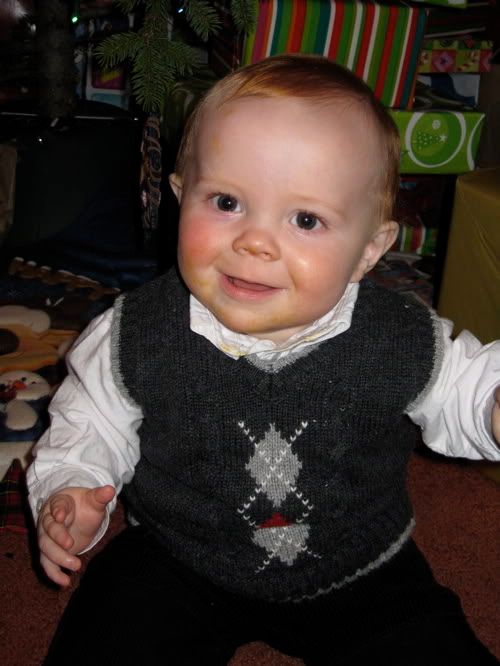 Christmas jammies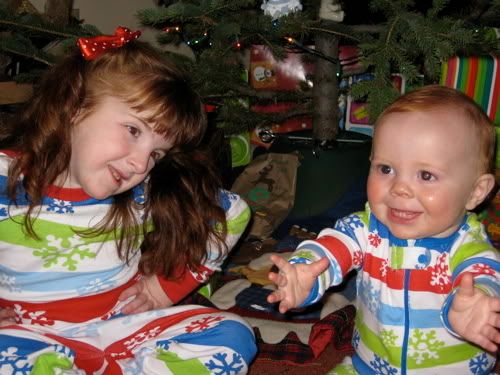 A Christmas jammie model in the making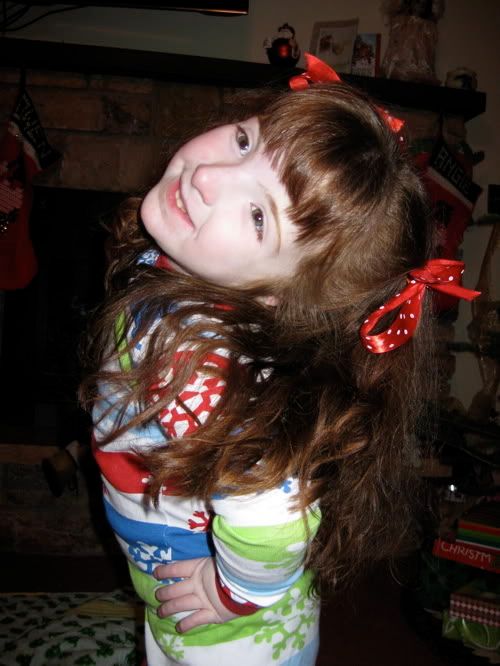 That's the present that I want:)
Christmas day cuties (neither of them was in the picture taking mood)
Handsome little man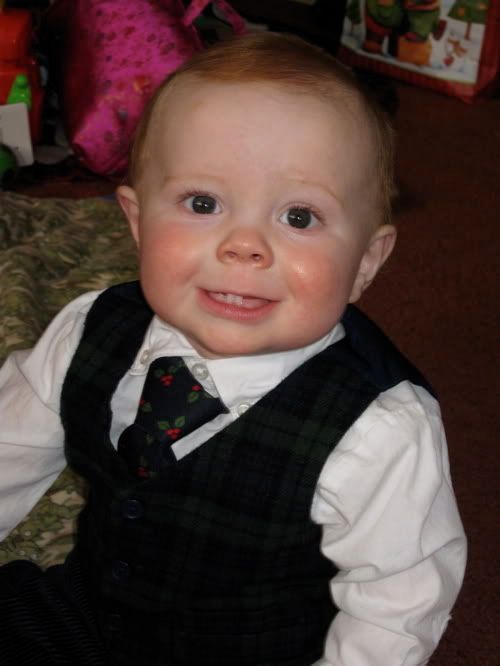 Have a safe new year!