I know that it seems like I have fallen off of the face of the Earth. Quite honestly, at times lately that has sounded like a good plan (no....I'm not suicidal or anything....just some things that are going on that are difficult....in regard to Emma). Sometimes it's just easier for me to hide in my little hole than it is to share. So, I disappeared for awhile, BUT I am back now. I'm going to take a little break from my day-to-day Make-a-Wish trip postings, but I am going to share a few MAW pictures.
Owen FELL.IN.LOVE with Ariel. I may have mentioned this before, but he was quite smitten! However, he was totally playing hard to get. If you go to YouTube and type in Owen with Ariel you will see my little man in action. It is quite hilarious:).
Here are a couple of pictures of Owen and Ariel: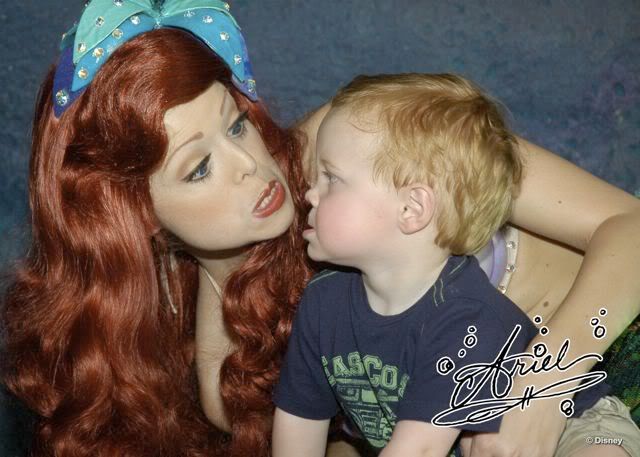 And here is a picture of our family in front of some of the 5 million lights from the Osbourne family spectacular! They lit up the streets in Disney Hollywood. It was fantastic!