The time has come for Miss Emma to get a "big girl bed"! We brought it home on Sunday, and we decided to completely take down the crib. The first night I DEFITINITELY thought THAT was a mistake! She cried all night long....big sobby tears...like there was an emotional attachment to the crib (I think she was over tired because she had been up too late the night before and had not napped all day! ). Last night was her 3rd night in the big bed, and she did GREAT!! Of course, she is in it now because she is a very sick little cookie. UGH!! High fever, respiratory crap!!! However, we have had a six week hiatus from being sick, so I will count my blessings. Here are a couple of pictures of THE BIG BED!!
We had just put the bed up, and she thought it was GREAT!!!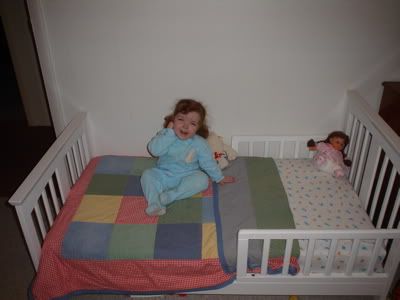 Until she had to lay down in it!! "Mama....get me out of here"! The words I imagined hearing!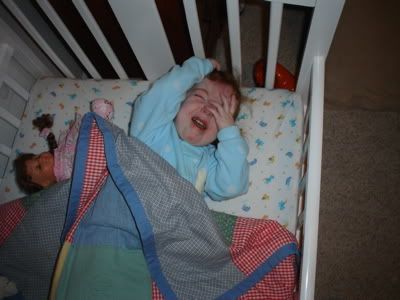 She did finally go to sleep (love the positioning!). She only slept for 2 hours...then she cried and cried and cried!