It is true that we really never know when we will see someone for the last time. It is easy for us to say that we need to cherish every moment, and appreciate all of the people in our lives (although at times it is so difficult to see the good in someone...it is always there). Yes, it is easy for us to "say" this, but to actually live the way that we "should" live is another story.
Over the last week I have found myself reminessing about our first medical experiences with Emma. I remember the first time that we came back from Denver...after being in the hospital for a month. People were trying to comfort us, and I remember many people saying that famous saying that "God doesn't give you more than you can handle". It made me so angry. I was not this strong. The other favorite that people would say is, "Everything happens for a reason". Well, please tell me the reason that God chose our daughter to have medical difficulties!!
However, as I look back on the last two years, I am finally seeing all of the GOOD things that have come from our medical experiences. There are so many treasured moments. Here is the one that is at the forefront of my mind right now. I have found one of my best friends through my "medical mom" experience. Her name is Becky, and I met her at an Organ Donor Awareness walk last September. Her little boy Louie has become one of Emma's best buddies. Louie had a heart transplant, and he was later found to have a mitochondrial disorder. I have to say that Becky is the most amazing mother that I have ever known. No matter what she has encountered with Louie, she has continued to hold him, love him, and be the very best advocate that she ever could be. She has helped me to be a better mother.
Three weeks ago today we met for doctors apointments in another town, and we stayed in a hotel with our kids. We took the kids swimming, ate pizza, drank wine, and talked until late at night. It was just what we ALL needed. The moment that I will always treasure is watching Louie swim. He had lost so much of his strength with his battle with his mitochondrial disorder, but in the water he HAD the freedom to move, and he loved it. I will always remember the pride that shone on Becky's face! There was a very special bond between those two!
One week later I received the call. I knew when I heard Becky's voice that Louie had gone to join Jesus, and my heart ached for her. I feel so fortunate to have known Louie, and to have shared his life. Emma was blessed to have such a wonderful friend. As I look back, our medical times have been heart wrenching, but without them I would not be who I am today, and I would not have found this friendship that will remain with me for the rest of my life!!
Godspeed Little Louie!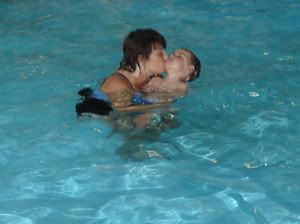 Louie and his Mommy